Pin Oak Bonsai Tree ('quercus palustris')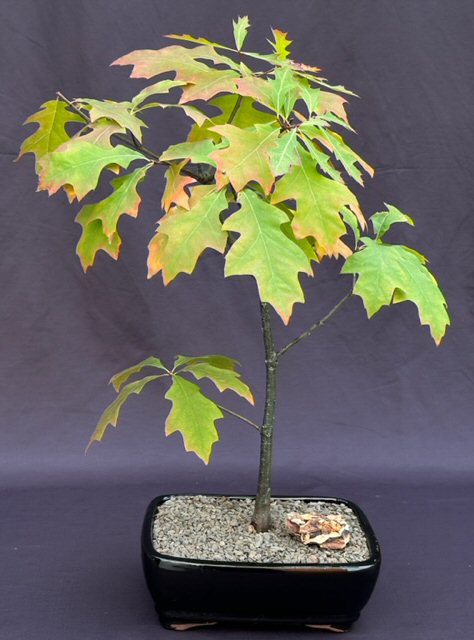 Sale Price: $59.95

From Bonsai Boy of NY
View User Comments
Pin Oak Bonsai Tree ('quercus palustris')
The Pin Oak is native to North America and is a medium sized deciduous tree. The leaves of the Pin Oak have 5 or 7 pointed lobes. Each lobe has 5-7 bristle-tipped teeth. The sinuses (air filled spaces) are typically u-shaped and extremely deep cut. In fact, there is approximately the same amount of air filled area as actual leaf area. The acorns, borne in a shallow, thin cap, are bitter. Great tree for bonsai. Deciduous - keep outdoors.
You may also be interested in these related Bonsai Trees and supplies:

Ceramic Bonsai Pot - Oval 8.0 x 6.25 x 2.5
- Sale Price: $12.00
Imported ceramic bonsai pot.

Ceramic Bonsai Pot With Attached Humidity/Drip tray-Professional Series Rectangle 8.5 x 6.5 x 3.5
- Sale Price: $19.25
Imported ceramic bonsai pot.

Pre Bonsai Norfolk Island Pine (Araucaria Heterophila)
- Sale Price: $16.95

Flowering Plum Bonsai Tree - Large (Carissa Macrocarpa)
- Sale Price: $79.95
The Natal Dwarf Plum is a semi-tropical evergreen, bearing fragrant, star-shaped white flowers and, following pollination, dark red edible plum-shaped fruit. Easy indoor care.

Flowering Devil's Backbone Bonsai Tree (pidilanthus tithymaloides - variegated)
- Sale Price: $39.95
The Devil's Backbone is a succulent tropical tree that does very well indoors and never complains about the lack of attention. Roots easily in water or moist soil. When placed in a sunny location, its variegated foliage becomes more pink and the tree will be covered in tiny red blooms which Ruby Throats and othe humming birds love. Pinch off center leaves to promote fuller growth.
User Comments:
There are currently 0 comments.