Pin Oak Bonsai Tree ('quercus palustris')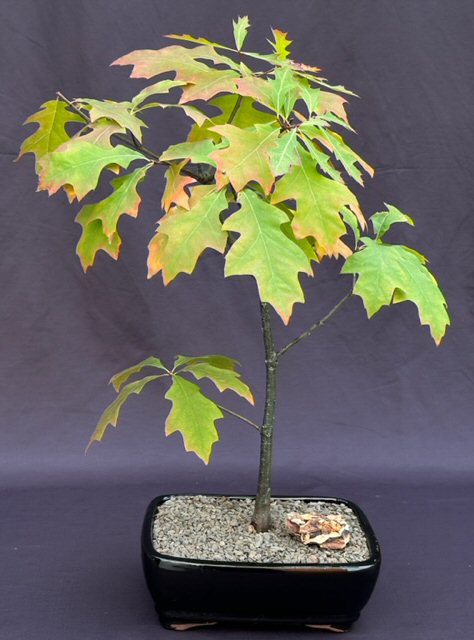 Sale Price: $59.95

From Bonsai Boy of NY
View User Comments
Pin Oak Bonsai Tree ('quercus palustris')
The Pin Oak is native to North America and is a medium sized deciduous tree. The leaves of the Pin Oak have 5 or 7 pointed lobes. Each lobe has 5-7 bristle-tipped teeth. The sinuses (air filled spaces) are typically u-shaped and extremely deep cut. In fact, there is approximately the same amount of air filled area as actual leaf area. The acorns, borne in a shallow, thin cap, are bitter. Great tree for bonsai. Deciduous - keep outdoors.
You may also be interested in these related Bonsai Trees and supplies:

Ficus Retusa Bonsai Tree Curved Trunk & Tiered Branching Style (ficus retusa)
- Sale Price: $295.00
Also known as Banyan Fig. The Retusa has small, dark green leaves which are more oval than the Benjamina. Grey to reddish bark dotted with small horizontal flecks, similar to tiger-like markings. Has a heavy trunk with and tiered branching. The Retusa is among the most tolerant, versatile and trouble-free bonsai trees for indoor use.

Ficus Bonsai Tree with Curved Trunk and Banyan Roots (ficus benjamina)
- Sale Price: $175.00
This ever popular Ficus Benjamina is trained with a coiled trunk with banyan roots that lend character to the tree. Full evergreen canopy. Very easy indoor care.

Flowering Lavender Star Flower Bonsai Tree - Small (Grewia Occidentalis)
- Sale Price: $29.95
Evergreen tree native to Africa and Australia with 400 species worldwide. Awesome purple/mauve 1" wide flowers borne along the stem at the end of spring and then, occasionally, the rest of the year. Good indoor bonsai tree. Provide some sun to help generate blooms.

Ceramic Figurine - Man With Pipe 1.5x1.5x2.5
- Sale Price: $6.95
Man With Pipe - Chinese mud figurine.

Ceramic Bonsai Pot - Rectangle 8.0 x 6.0 x 2.5 Tall
- Sale Price: $13.50
Imported, glazed ceramic container.
User Comments:
There are currently 0 comments.