Pin Oak Bonsai Tree ('quercus palustris')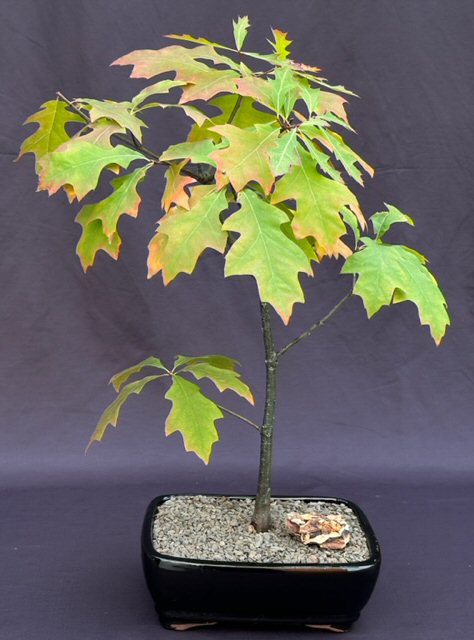 Sale Price: $59.95

From Bonsai Boy of NY
View User Comments
Pin Oak Bonsai Tree ('quercus palustris')
The Pin Oak is native to North America and is a medium sized deciduous tree. The leaves of the Pin Oak have 5 or 7 pointed lobes. Each lobe has 5-7 bristle-tipped teeth. The sinuses (air filled spaces) are typically u-shaped and extremely deep cut. In fact, there is approximately the same amount of air filled area as actual leaf area. The acorns, borne in a shallow, thin cap, are bitter. Great tree for bonsai. Deciduous - keep outdoors.
You may also be interested in these related Bonsai Trees and supplies:

Ceramic Bonsai Pot - Rectangle 12.0 x 9.5 x 3.375
- Sale Price: $30.00
Imported ceramic bonsai pot

Stainless Steel 3 Piece Scoop Set With Screen
- Sale Price: $34.95
Stainless steel 3 piece scoop set with screen. Handy for mixing bonsai soil and for scooping bonsai soil into bonsai pots. These scoops have fine built-in screens (17 meshes per inch) which sift out dust as you scoop.

Ceramic Bonsai Pot - Rectangle 7.0 x 5.5 x 2.4
- Sale Price: $10.00
Imported ceramic bonsai pot.

Flowering Holly (ilex)
- Sale Price: $49.95
The holly has alternate glossy leaves, typically with a spiny toothed or serrated leaf margin. It has four small petal flowers from greenish to white in color. Pollination is done by bees or other insects. The fruit is a berry, usually red to brown but rarely green or yellow which ripens in winter. Offers a pleasant color contrast with the color of the foliage. The fruits are a very important food source for birds and other wild life and in winter the Ilex is an important source of food and shelter.

Ceramic Bonsai Pot - Rectangle 8.0 x 6.0 x 2.5 Tall
- Sale Price: $13.50
Imported, glazed ceramic container.
User Comments:
There are currently 0 comments.