Oriental Ficus Bonsai Tree Coiled Trunk with Banyan Roots (benjamina 'orientalis')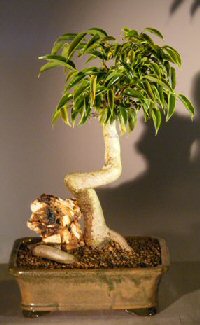 Sale Price: $125.00

From Bonsai Boy of NY
View User Comments
Oriental Ficus Bonsai Tree Coiled Trunk with Banyan Roots (benjamina 'orientalis')
Fig species which is native to south and southeast Asia. This evergreen tree is particularly good for bonsai training as they produce sturdy trunks, good branching characteristics and shiny leaves. Best to trim the leaves in early summer as the new leaves that subsequently grow will be smaller than the ones removed. Ours is trained in the coiled trunk style. Great for indoors.
You may also be interested in these related Bonsai Trees and supplies:

Shimpaku Juniper Bonsai Tree - Trained (juniper chinensis)
- Sale Price: $89.95
The Japanese Shimpaku Juniper is a needled evergreen tolerant of a wide variety of soils and is dioecious which means that there are separate male and female plants. Shimpaku is a naturally irregular vase shaped Juniper which we have trained in the traditional bonsai style that has a shaped trunk and deadwood in the form of Shari. The Shimpaku has attractive year round foliage and its dark green needles are soft to the touch. Very popular and easy to care for bonsai.

Miniature Chinese Bamboo Raft with Man on Wave
- Sale Price: $6.95
Charming, imported miniature Chinese bamboo raft with man punting on wave.

Ficus Oriental Bonsai Tree On Rock Slab (ficus 'orientalis')
- Sale Price: $99.95
The Ficus Orientalis has very small leaves and compact growth habit. Great for indoors in low, moderate or high lighting conditions. Our tree is planted on a rock slab.

Wooden Display Table - 8 x 5 x 4 tall
- Sale Price: $79.95
Wooden display table. Made in China. Semi-gloss finish.

Grow Light Bulb 60 Watt Replacement Bulb
- Sale Price: $11.95
Full spectrum 60 watt replacement bulb for use in our Grow Light Kit or any standard fixture. Lasts for 3000 hours. Great for bonsai, orchids or all houseplants.
User Comments:
There are currently 0 comments.