Mica Bonsai Pot - Oval 20.5x14.5x5.5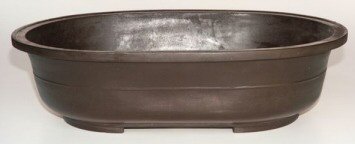 Sale Price: $89.95

From Bonsai Boy of NY
View User Comments
Mica Bonsai Pot - Oval 20.5x14.5x5.5
Mica pots imported from Korea are made of 80% mica, 15% polyethelene and 5% graphite. Mica has a natural ability to stabilize the temperature of the soil in the pots. This promotes healthy root activity during the growing season and protects during the cold periods. These pots are extremely durable and will withstand the elements for years. The pot has a wide lip and is dark brown in color.
You may also be interested in these related Bonsai Trees and supplies:

Monterey - Double Trunk-Preserved Bonsai Tree (Preserved - Not a living tree)
- Sale Price: $99.95
Please allow up to 14 days for delivery.

Flowering Princess Earrings Bonsai Tree - Medium
- Sale Price: $49.95
A small semi-deciduous tropical tree native to South Africa. It is also known as Bell Mimosa, Chinese Lantern or Rabbit's Foot Acacia. The word 'dichrostachys' means '2 colored spike' and 'cinerea' refers to its greyish hairs. The delicate pink and yellow inflorescens resembles precious earrings hanging from a tree. The flower starts off pink and the next day it fades to white. Can produce blooms almost year round in full sun. The fruit and seeds that are produced are edible and the flowers can be a valuable source of honey. Wonderful flowering bonsai for indoors.

Ceramic Bonsai Pot - Rectangle 8.0 x 6.0 x 2.5 Tall
- Sale Price: $13.50
Imported, glazed ceramic container.

Flowering Chinese Fringe Bonsai Tree (loropetalum chinensis)
- Sale Price: $49.95
Native to the tropical areas of Asia, this unique evergreen has small burgundy colored leaves that turn green as they mature. The Chinese Fringe, which is a relative of the Witch Hazel, produces fragrant clusters of ruby-red/pink flowers in the spring. Likes direct or indirect light and is cold hardy in temperatures just above freezing. The exfoliating bark on mature trees is most attractive. Great flowering bonsai tree for indoors.

Flowering Sea Grape (coccoloba uvifera)
- Sale Price: $49.95
This Sea Grape is an evergreen flowering tree in the buckwheat family that has large, round, leathery leaves with a primary vein that has a red color extending from the base and the entire leaf turns red as it ages. This Sea Grape is native to the Caribbean and tropical America. The bark is smooth and yellowish. In late summer it bears green fruit ( 0.75) in diameter, in large, grade-like clusters. The fruit gradually ripens to a purplish color. Each contains a pit that constitutes most of the fruit. Great for indoors. Be sure to keep warm and in a sunny location.
User Comments:
There are currently 0 comments.