Juniper Stone Landscape Four Tree Forest Scene (juniper procumbens nana)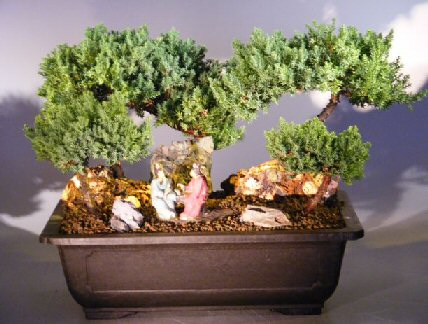 Sale Price: $350.00

From Bonsai Boy of NY
View User Comments
Juniper Stone Landscape Four Tree Forest Scene (juniper procumbens nana)
This dwarf Juniper from Japan is the most popular evergreen in the U.S. When we think of a traditional bonsai and what it should look like, we think of a "Juniper Procumbens Nana". They are very hardy, long-lived, and tolerate many adverse conditions. This is an excellent tree for the beginner.
You may also be interested in these related Bonsai Trees and supplies:

Flowering Brush Cherry Bonsai Tree Water/Land Container - Small (eugenia myrtifolia)
- Sale Price: $39.95
This is the tree that we recommend if you are inexperienced with bonsai or you do not have a green thumb. In our opinion it is one of the easiest bonsai trees to care for and it is a very beautiful trouble-free evergreen. If you don't know which tree to purchase as a gift for someone, this is the tree to select. Our tree features tiny umbrella shaped leaves forming a dense green canopy. On the other side of the planting is a well that holds water. We include a fisherman figurine along with a fishing pole and ceramic fish.

Willow Leaf Ficus Bonsai Tree - Stone Landscape Scene (Ficus Nerifolia/Salisafolia)
- Sale Price: $59.95
Also knows as Mexicana Ficus. Elongated, light green leaves have a striking resemblance to the popular weeping willow tree. This tree does particularly well indoors in low, moderate or high lighting conditions. The rocks selected for this unusual arrangement are imported and washed in acid making them strikingly unique. We then cut and cement the rocks to one side of the pot, leaving an ample well between them to hold water. A ceramic bridge is cemented to the rocks on either side. A pagoda figurine is also added and cemented to the stone located above the bridge. To complete the scene, we cement a miniature, glazed, mud figurine fisherman overlooking the water holding a fishing pole and fish. On the opposite side of this restful scene, we have selected for planting the ever popular Willow Leaf bonsai. The entire landscape is arranged in an attractive, glazed, imported ceramic container.

Neem Oil Organic Pest Control Concentrate 8 Ounces
- Sale Price: $21.95
The Neem tree is considered to be one of the most promising trees of the 21st century. It has great potential in the fields of pest management, environmental protection and medicine. Used widely as a bio-pesticide for organic farming, as it repels a wide variety of pests, including the mealy bug, aphids, ants and mosquitoes. Use as a repellent and larvacide. Neem oil also controls black spot, powdery mildew and fungus. Dilute at the rate of 4 teaspoons per gallon of water. Adding a surfactant, such as liquid diswashing soap, will enhance its effectiveness. Great for all bonsai trees and household plants.

Flowering Heavenly Bamboo Bonsai Tree (nandina 'firepower')
- Sale Price: $49.95
Also known as sacred bamboo and is related to the barberry. This tough as nails evergreen has fine lacy foliage which turns bronze and red in winter. It has unbranched reed-like stems. In spring new foliage appears as bright bronze red and is soon followed by large creamy white flowers. In summer clusters of bright green berries appear and by late summer, the berries ripen to a bright red. Does well indoors. Provide sun to get intense coloring of foliage.

Ficus Bonsai Tree with Coiled Trunk in a Water/Land Container (ficus 'orientalis')
- Sale Price: $49.95
Miniature cultivar of the popular Ficus Orientalis with small leaves and compact growth habit. Trained in the coiled trunk style, potted in a land/water bonsai container. This tree does particularly well indoors.
User Comments:
There are currently 0 comments.