Juniper in a Lava Rock (Juniper Procumbens nana)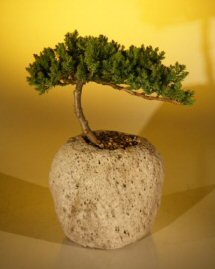 Sale Price: $59.95

From Bonsai Boy of NY
View User Comments
Juniper in a Lava Rock (Juniper Procumbens nana)
We grow the Juniper in lava-rock (pumice stone) by boring a hole in the rock and sawing flat the bottom of the stone. Since the lava-rock is porous the rock serves the same purpose as the bonsai pot. When we think of a traditional bonsai and what it should look like, we think of a Juniper Procumbens. They are hardy and long-lived and tolerate many adverse conditions. Popular and unique.
You may also be interested in these related Bonsai Trees and supplies:

Dwarf Flowering Water Jasmine (wrightia vietnamensis)
- Sale Price: $59.95
This rare variety of the famous Wrightia is also known as the Dwarf Sacred Buddhist. It is perfect for bonsai and for everyone who has limited space but wants to enjoy Wrightia fragrance. The perfume is sweet and heavy. It has small leaves and small, white, single, fragrant flowers. Can tolerate some cool temperatures for a short period but is sensitive to freezing.

Boy Atop Elephant Reading Book
- Sale Price: $8.95
Imported miniature figurine of Boy Atop Elephant Reading Book. Measures 2.25"x1.0"x2.0"

Green Emerald Ficus Bonsai Tree Banyan Style (ficus microcarpa)
- Sale Price: $275.00
Also known as Green Island Ficus. Has oval to roundish dark green shiny leaves. Easily forms rosetts at the end of its branches if kept trimmed. Branches and fruits well and easily develops aerial roots when kept humid. Different than other ficus varieties in that the leaves are much thicker. Does well in lower or higher lighting conditions. One of our favorites. Easy indoor maintenance.

101 Essential Tips on Bonsai-By Harry Tomlinson
- Sale Price: $7.95
Step by step information bringing you expert advice at an affordable price. Quick answers to all questions with bite size points you can grasp in an instant. Seventy one pages with 2 page index. More than 100 full color pictures.

Ficus Retusa Bonsai Tree Curved Trunk & Tiered branching style (ficus retusa)
- Sale Price: $295.00
Also known as Banyan Fig. The Retusa has small, dark green leaves which are more oval than the Benjamina. Grey to reddish bark dotted with small horizontal flecks, similar to tiger-like markings. Has a heavy trunk with and tiered branching. The Retusa is among the most tolerant, versatile and trouble-free bonsai trees for indoor use.
User Comments:
There are currently 0 comments.