Juniper Bonsai Tree - Trained (juniper procumbens nana)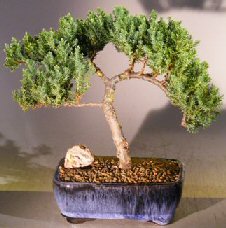 Sale Price: $125.00

From Bonsai Boy of NY
View User Comments
Juniper Bonsai Tree - Trained (juniper procumbens nana)
This dwarf Juniper from Japan is the most popular evergreen in the U.S. When we think of a traditional bonsai and what it should look like we think of a "Juniper Procumbens Nana". They are very hardy, long-lived and tolerate many adverse conditions. Trained style.
You may also be interested in these related Bonsai Trees and supplies:

Ginseng Ficus Bonsai Tree - Medium (Ficus Retusa)
- Sale Price: $49.95
Also known as Banyan Fig and Taiwan Ficus. The Retusa has small dark green leaves which alternate up the stem and which are more oval than the Benjamina. Grey to reddish bark dotted with small horizontal flecks, similar to tiger-like markings. All have heavy trunks with exposed aerial roots. Among the most tolerant, versatile and trouble-free bonsai trees for indoor use.

Flowering Myrtle Bonsai Tree (myrtus communis)
- Sale Price: $150.00
This evergreen tree is native to southern Europe and has leaves that are only 3-5 cm long. The leaves have a pleasantly fragrant essential oil. The star-like flowers have 5 petals and sepals, and an amazingly large number of stamens. The flower petals are usually white, with globose blue-black berries containing several seeds. Easy indoor care.

Red Heavenly Bamboo Seeds
- Sale Price: $4.95
Propagation instructions are included with each packet.

Chinese Flowering White Serissa Bonsai Tree of a Thousand Stars Curved Trunk Style Extra Large (serissa japonica)
- Sale Price: $125.00
Tree of a Thousand Stars. The Japonica has somewhat elongated spoon shaped, shiny green leaves. It is a twiggy tree that grows tighter with shearing. This northern Chinese Serissa has small white trumpet shaped blossoms and is trained in the tiered layered style with an art shaped trunk.

Flowering Mount Fuji Serissa With Raised Roots (serissa foetida)
- Sale Price: $49.95
Beautiful white, star-shaped, miniature flowers. This sub-tropical variegated evergreen, which is imported from Japan blooms profusely with delicate white miniature flowers. Trained raised root system gives the appearance of great age. Easy indoor maintenance. Excellent for beginners.
User Comments:
There are currently 0 comments.