Juniper Bonsai Tree - Phoenix Graft (juniper procumbens nana)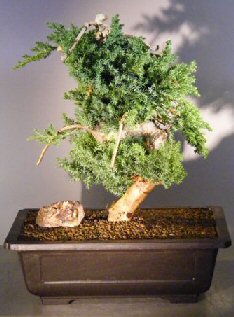 Sale Price: $250.00

From Bonsai Boy of NY
View User Comments
Juniper Bonsai Tree - Phoenix Graft (juniper procumbens nana)
This dwarf Juniper from Japan is the most popular evergreen in the U.S.A. When we think of a traditional bonsai and what it should look like, we think of a "Juniper Procumbens Nana." It is very hardy, long-lived and tolerates many adverse conditions. Trained as a Phoenix Graft.
A Phoenix Graft is the name commonly given to bonsai known as Tanuki. "Tanuki" is the Japanese word for "Badger." In traditional Japanese folklore, this animal is responsible for playing tricks on people, so when a Tanuki is involved, nothing is quite what it appears. A Tanuki bonsai is a living tree "grafting" to a section of deadwood, often from another species entirely. The effect can be impressive. Most Tanuki, in order to make use of a lifeless trunk, are styled in the driftwood style. Tanuki are also called "Phoenix Grafts" after the mythological Phoenix which arose from its own ashes.
You may also be interested in these related Bonsai Trees and supplies:

Flowering Surinam Cherry Bonsai Tree Curved Trunk Style (eugenia uniflora)
- Sale Price: $195.00
The Surinam Cherry is a sub-tropical evergreen with dark green ovate leaves formed in pairs. Striking red exfoliating bark. In spring, may bear small white flowers which is followed by red edible fruit. Popular landscape tree in the southern part of the United States. Trained in the traditional curved trunk style with tiered branching. Does very well indoors.

Grow Light Bulb 60 Watt Replacement Bulb
- Sale Price: $11.95
Full spectrum 60 watt replacement bulb for use in our Grow Light Kit or any standard fixture. Lasts for 3000 hours. Great for bonsai, orchids or all houseplants.

Ceramic Bonsai Pot - Rectangle Unglazed 12x9.625x3.5
- Sale Price: $27.50
Rectangle unglazed ceramic bonsai pot

Ficus Retusa- Small (Melon Seed)
- Sale Price: $24.95
Finally, a Ficus Retusa with very tiny leaves. Ideal for bonsai. Great indoor bonsai tree. Very easy maintenance.

Miniature Glass Horse Figurine
- Sale Price: $6.95
Miniature glass horse figurine
User Comments:
There are currently 0 comments.