Juniper Bonsai Tree - Phoenix Graft (juniper procumbens nana)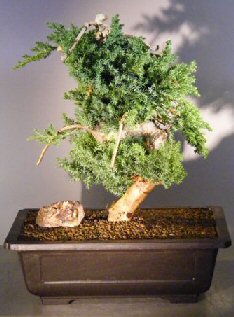 Sale Price: $250.00

From Bonsai Boy of NY
View User Comments
Juniper Bonsai Tree - Phoenix Graft (juniper procumbens nana)
This dwarf Juniper from Japan is the most popular evergreen in the U.S.A. When we think of a traditional bonsai and what it should look like, we think of a "Juniper Procumbens Nana." It is very hardy, long-lived and tolerates many adverse conditions. Trained as a Phoenix Graft.
A Phoenix Graft is the name commonly given to bonsai known as Tanuki. "Tanuki" is the Japanese word for "Badger." In traditional Japanese folklore, this animal is responsible for playing tricks on people, so when a Tanuki is involved, nothing is quite what it appears. A Tanuki bonsai is a living tree "grafting" to a section of deadwood, often from another species entirely. The effect can be impressive. Most Tanuki, in order to make use of a lifeless trunk, are styled in the driftwood style. Tanuki are also called "Phoenix Grafts" after the mythological Phoenix which arose from its own ashes.
You may also be interested in these related Bonsai Trees and supplies:

Oriental Ficus Bonsai - 3 Tree Group (ficus benjamina 'orientalis')
- Sale Price: $175.00
Fig species which is native to South and Southeastern Asia. These evergreen trees are particularly good for bonsai training, as they produce sturdy trunks, good branching characteristics and shiny leaves. Great for indoors year round. The brighter the location, the more compact the growth. Three tree forest group, easy maintenance.

Bald Cypress Bonsai Tree - Coiled Trunk (taxodium distichum)
- Sale Price: $54.95
The Bald Cypress grows in many areas of Louisiana and Florida particularly in swampy areas. The Bald Cypress has been designated the official tree of the state of Louisiana. The bark is a fibrous reddish-brown with small flat ridges and shallow furrows. The leaves of the Bald Cypress tree spread in flat planes in a feathery pattern on its branchlets and is deciduous. Our is grown from seed and trained into a coiled trunk style. Good for indoors.

Ceramic Bonsai Pot - Rectangle 6.125 x 5.0 x 2.125
- Sale Price: $7.25
Imported ceramic bonsai pot

Bonsai Tree Branch Bender/Bonsai Jack
- Sale Price: $49.95
Tackle the training of any bonsai tree with this high quality branch bender/Bonsai jack. Using the push-pull effect will slowly bend and shape your bonsai tree branches. This tool is what you need when wire is not enough. Branch benders are able to exert powerful, yet gentle force on a branch so that the bonsai artist can bend it in the appropriate direction.

Frog Planter
- Sale Price: $27.95
User Comments:
There are currently 0 comments.