Juniper Bonsai Tree - Phoenix Graft (juniper procumbens nana)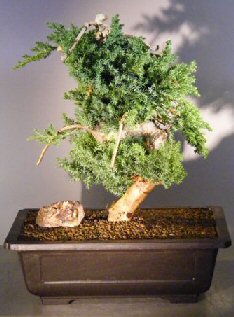 Sale Price: $250.00

From Bonsai Boy of NY
View User Comments
Juniper Bonsai Tree - Phoenix Graft (juniper procumbens nana)
This dwarf Juniper from Japan is the most popular evergreen in the U.S.A. When we think of a traditional bonsai and what it should look like, we think of a "Juniper Procumbens Nana." It is very hardy, long-lived and tolerates many adverse conditions. Trained as a Phoenix Graft.
A Phoenix Graft is the name commonly given to bonsai known as Tanuki. "Tanuki" is the Japanese word for "Badger." In traditional Japanese folklore, this animal is responsible for playing tricks on people, so when a Tanuki is involved, nothing is quite what it appears. A Tanuki bonsai is a living tree "grafting" to a section of deadwood, often from another species entirely. The effect can be impressive. Most Tanuki, in order to make use of a lifeless trunk, are styled in the driftwood style. Tanuki are also called "Phoenix Grafts" after the mythological Phoenix which arose from its own ashes.
You may also be interested in these related Bonsai Trees and supplies:

Flowering Mini Rose Tiny Red
- Sale Price: $39.95
This tiny red macro mini rose is a bloom machine in miniature growing only to 9" tall. It has light green tiny leaves with a compact uniform growth habit. This disease resistant variety produces well shaped blooms up to 1/2" diameter. It has a delicate red color, with soft petals. Their color softens just before petal drop as the tree readies itself for another flush of blooms. It flowers profusely from spring through early fall. Keep outdoors and protect in winter.

Ceramic Bonsai Pot with Attached Tray - Cascade 5.5x5.5
- Sale Price: $14.50
Ceramic bonsai pot, cscade, square, color mustard

Oriental Ficus Bonsai Tree Five (5) Tree Forest Group (benjamina 'orientalis')
- Sale Price: $129.95
Fig species which is native to south and south-east asia. This evergreen tree is particularly good for bonsai training as they produce sturdy trunks, good branching characteristics and shiny leaves that remain on the branches much better than other ficus varieties. Three tree forest group. Easy care and great for indoors.

Land/Water Ceramic Bonsai Pot 11.25 x 9.5 x 3.0
- Sale Price: $29.95
Land/Water ceramic bonsai pot. One side is for a tree planting and the other is a well that holds water.

Plastic House Label 2.0 x 1.5 writing surface
- Sale Price: $2.95
Plastic House label. Tan color. Pencil or magic marker can be used on the 1.75"x1.5" writing surface.
User Comments:
There are currently 0 comments.