Juniper Bonsai Tree - Phoenix Graft (juniper procumbens nana)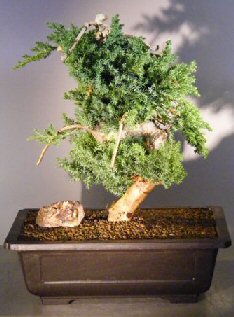 Sale Price: $250.00

From Bonsai Boy of NY
View User Comments
Juniper Bonsai Tree - Phoenix Graft (juniper procumbens nana)
This dwarf Juniper from Japan is the most popular evergreen in the U.S.A. When we think of a traditional bonsai and what it should look like, we think of a "Juniper Procumbens Nana." It is very hardy, long-lived and tolerates many adverse conditions. Trained as a Phoenix Graft.
A Phoenix Graft is the name commonly given to bonsai known as Tanuki. "Tanuki" is the Japanese word for "Badger." In traditional Japanese folklore, this animal is responsible for playing tricks on people, so when a Tanuki is involved, nothing is quite what it appears. A Tanuki bonsai is a living tree "grafting" to a section of deadwood, often from another species entirely. The effect can be impressive. Most Tanuki, in order to make use of a lifeless trunk, are styled in the driftwood style. Tanuki are also called "Phoenix Grafts" after the mythological Phoenix which arose from its own ashes.
You may also be interested in these related Bonsai Trees and supplies:

Artificial Prunus Bonsai Tree
- Sale Price: $59.95
The flowers and branches of the artificial tree are created from luna clay, making them very flexible and, therefore, can be adjusted to your personal preferences or left as shown in the image. Includes 14 multi-colored life-like fruit. The hand-painted flowers are so life-like that people will want to touch them to see if they are real. This tree will retain its beauty for many years to come and can be cleaned with a slightly dampened cloth.

Ceramic Miniature Figurine Man Holding Drinking Cup Fine Detail
- Sale Price: $4.95
Ceramic Miniature Figurine Man Holding Drinking Cup.

Monterey - 20 (Preserved - Not a living tree)
- Sale Price: $279.00
Please allow up to 14 days for delivery.

Bonsai Training Pot 7.75 L x 5.5 W x 2.25 H Heavy Duty Plastic
- Sale Price: $2.95
Bonsai Training Pot - Heavy Duty

Mica Forest Bonsai Pot - Oval - 19.5x11.25x2.0
- Sale Price: $99.95
Mica Pota are made of 80% mica, 15% polyethelene and 5% graphite. Mica has a natural ability to stabilize the temperature of the soil in the pots. This promotes healthy root activity during the growing season and protects during the cold periods. The polyethelene bonds raw materials together and makes the pots tough and durable. Therefore the pots seldom break. Graphite gives color and prevents discoloring. Mica pots have the appearance of high quality unglazed ceramic pots but they are much less expensive.
User Comments:
There are currently 0 comments.