Juniper Bonsai Tree - Phoenix Graft (juniper procumbens nana)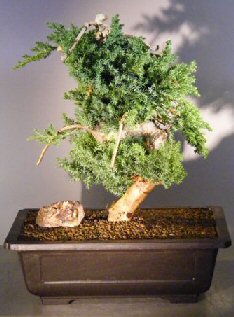 Sale Price: $250.00

From Bonsai Boy of NY
View User Comments
Juniper Bonsai Tree - Phoenix Graft (juniper procumbens nana)
This dwarf Juniper from Japan is the most popular evergreen in the U.S.A. When we think of a traditional bonsai and what it should look like, we think of a "Juniper Procumbens Nana." It is very hardy, long-lived and tolerates many adverse conditions. Trained as a Phoenix Graft.
A Phoenix Graft is the name commonly given to bonsai known as Tanuki. "Tanuki" is the Japanese word for "Badger." In traditional Japanese folklore, this animal is responsible for playing tricks on people, so when a Tanuki is involved, nothing is quite what it appears. A Tanuki bonsai is a living tree "grafting" to a section of deadwood, often from another species entirely. The effect can be impressive. Most Tanuki, in order to make use of a lifeless trunk, are styled in the driftwood style. Tanuki are also called "Phoenix Grafts" after the mythological Phoenix which arose from its own ashes.
You may also be interested in these related Bonsai Trees and supplies:

Professional Bonsai Wire Cutters Made in Japan
- Sale Price: $129.95
These wire cutters are designed specifically for removing bonsai wire. Although enthusiasts new to bonsai sometimes substitute standard wire cutters, these are designed with a rounded head to prevent damage to the trunk and branches when removing wires. The jaws of the cutters cut the wire symmetrically and cleanly. Highly recommended for bonsai enthusiast. 8.0" overall.

White Orchid Select White Phalaenopsis
- Sale Price: $49.95
The single stem Phalaenopsis is perhaps the most popular of all orchids. It's beauty and elegance is unsurpassed and it's blooms last for up to 2 months or more. Our select orchid comes with up to 6 blooms. Sending orchids is possibly the most thoughtful way to brighten someone's day. Orchids are exotic and many people are honored to receive them. We include the name of the orchid and easy care instructions so the orchid will be appreciated for a very long time. This white Phalaenopsis is sure to be enjoyed by anyone who receives it. This is the perfect indoor flowering orchid for the beginner. Arrives in flower and bud.

Ceramic Bonsai Pot With Attached Humidity/Drip tray-Professional Series Oval 8.5 x 6.5 x 3.5
- Sale Price: $19.25
Imported ceramic bonsai pot.

Artificial Flowering Desert Rose Bonsai Tree
- Sale Price: $59.95
The flowers and branches of this artificial Desert Rose tree are created from luna clay making them very flexible and, therefore, can be adjusted to your personal preferences or left as shown in the image. The hand-painted flowers are so life-like that people will want to touch them to see if they are real. This tree will retain its beauty for many years to come and can be cleaned with a dampened cloth.

Plastic 3 Piece Scoop Set
- Sale Price: $12.95
Heavy duty three (3) piece scoop set. Handy for mixing bonsai soil and for scooping bonsai soil into bonsai pots. Imported from Japan.
User Comments:
There are currently 0 comments.