Flowering Orange Jasmine - Large ('murraya paniculata')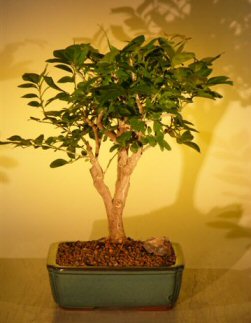 Sale Price: $69.95

From Bonsai Boy of NY
View User Comments
Flowering Orange Jasmine - Large ('murraya paniculata')
The Orange Jasmine (murraya paniculata), also known as "satinwood", is a small tree that belongs to the Rue family. The very fragrant white "orange blossom" flowers stand out against the evergreen dark foliage. This evergreen tree flowers at intervals throughout the year and produces fragrant orange jasmine scented flowers and striking bright orange-to-red fruit. It makes an outstanding indoor flowering bonsai tree due to its compact habit and dense glossy green foliage.
You may also be interested in these related Bonsai Trees and supplies:

Firethorn Seeds
- Sale Price: $4.95
Propagation instructions are included with each packet.

Oriental Ficus Bonsai Tree Five (5) Tree Forest Group (benjamina 'orientalis')
- Sale Price: $129.95
Fig species which is native to south and south-east asia. This evergreen tree is particularly good for bonsai training as they produce sturdy trunks, good branching characteristics and shiny leaves that remain on the branches much better than other ficus varieties. Three tree forest group. Easy care and great for indoors.

Wire Bonsai Tree Sculpture - Weeping Willow Style
- Sale Price: $325.00
Please allow up to 14 days for delivery.

Flowering Chinotto Orange Bonsai Tree (Citrus Myrtifolia Rafunergue)
- Sale Price: $89.95
Chinotto Orange is sometimes referred to as the Myrtle - Leaf Orange. The Myrtle - leaf orange has been known for some centuries in the Mediterranean as the Italian and French names imply was presumably introduced from China. The tree grows very slowly and has a dwarf compact habit. The leaves are small (less than 2.0") and have a dark green color. The tree flowers and produces crops of small orange fruits of moderate seediness. The fruit matures in the winter and are moderately tart. Great for indoors.

Miniature Ceramic Figurine: Man Sitting on Jar - Fine Detail Measures 2.5 x 3.0 Tall
- Sale Price: $8.95
Miniature Ceramic Figurine: Man Sitting on Jar - Fine Detail
User Comments:
There are currently 0 comments.