Flowering Orange Jasmine - Large ('murraya paniculata')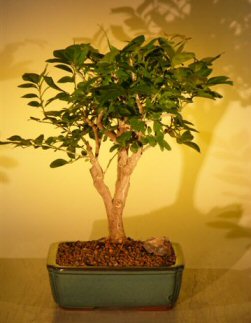 Sale Price: $69.95

From Bonsai Boy of NY
View User Comments
Flowering Orange Jasmine - Large ('murraya paniculata')
The Orange Jasmine (murraya paniculata), also known as "satinwood", is a small tree that belongs to the Rue family. The very fragrant white "orange blossom" flowers stand out against the evergreen dark foliage. This evergreen tree flowers at intervals throughout the year and produces fragrant orange jasmine scented flowers and striking bright orange-to-red fruit. It makes an outstanding indoor flowering bonsai tree due to its compact habit and dense glossy green foliage.
You may also be interested in these related Bonsai Trees and supplies:

Himalayan Cedar Bonsai Tree (cedrus deodara)
- Sale Price: $295.00
Conifer cone and bearing with reddish - brown barrel shaped cones. Has silvery green needles with cream hued tips evergreen with an amazingly soft texture. Mature foliage is gray-green. Hardy. Keep outdoors.

Flowering Ligustrum Bonsai Tree (ligustrum lucidum)
- Sale Price: $99.95
Native to China and Eastern Asia and is now grown ornamentally in the United States. The berry of the Ligustrum has been used as a "yin" tonic in traditional Chinese medicine for a wide range of conditions, including premature aging, ringing in the ears and chronic toxicity. White puffy blooms are attractive during late spring and early summer. Great for indoors.

Flowering Mount Fuji Serissa Bonsai Tree - Medium Stone Landscape Scene (serissa foetida)
- Sale Price: $59.95
The rocks selected for this unusual arrangement are imported and washed in acid, making them strikingly unique. We then cut and cement the rocks to one side of the pot and create a well on the opposite side. A ceramic bridge is cemented to the rocks on either side. A pagoda figurine is also added and cemented to the stone located above the bridge. To complete the scene, we cement a miniature, glazed, mud figurine fisherman overlooking the well, holding a fishing pole and fish. On the opposite side of the restful scene, we have selected for planting, the flowering Mount Fuji Serissa bonsai which blooms easily. An excellent indoor bonsai tree for home or office.

Hawaiian Umbrella Bonsai Tree Roots Growing Over Rock, Large (Arboricola Schefflera)
- Sale Price: $99.95
Root over Rock. This is the tree that we recommend if you are inexperienced with bonsai or you do not have a green thumb. In our opinion it is one of the easiest bonsai trees to care for and is a very beautiful trouble-free evergreen. If you don't know which tree to purchase as a gift for someone, this is the tree to select. This versatile tree is great for home, office, dorm or anywhere and does well in low to high lighting conditions. Our tree features tiny umbrella shaped leaves forming a dense green canopy. This impressive trouble-free evergreen has exposed roots growing over a large textured rock and down into the soil. Very popular and easy to care for.

Flowering Tropical Boxwood Bonsai Tree - Medium (neea buxifolia)
- Sale Price: $39.95
Neea buxifolia is a versatile tree native to Puerto Rico. Commonly spelled "Nia", the botanical name is "Neea". It is a member of the Bouganvillea family with leaves about one quarter inch long and oblong with a rounded apex. This tree is especially attractive during the growing season due to the deep red color of its new shoots. Neea bears small flowers in spring and summer followed by little red mature fruit in summer. Great for indoors.
User Comments:
There are currently 0 comments.