Flowering Myrtle Bonsai Tree (myrtus communis)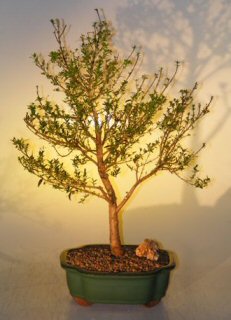 Sale Price: $150.00

From Bonsai Boy of NY
View User Comments
Flowering Myrtle Bonsai Tree (myrtus communis)
This evergreen tree is native to southern Europe and has leaves that are only 3-5 cm long. The leaves have a pleasantly fragrant essential oil. The star-like flowers have 5 petals and sepals, and an amazingly large number of stamens. The flower petals are usually white, with globose blue-black berries containing several seeds. Easy indoor care.
You may also be interested in these related Bonsai Trees and supplies:

Podocarpus Bonsai Tree Coiled Trunk (podocarpus macrophyllus)
- Sale Price: $150.00
Aka Buddhist Pine or Chinese Yew. The Podocarpus is a dense evergreen with pointed, leathery, dark green leaves arranged on stiff, symmetrical branches. The tree which is unisexual, has male flowers in cones and female flowers composed of cylindrical thickened scales. The fruits are edible, pendiculate, fleshy and brightly colored. New floiage appears light green in color that turns darker with age. Our tree is trained in the traditional bonsai style with a curved trunk and tiered branches. Grows very well albeit slowly indoors.

Ceramic Bonsai Pot - Professional Series Rectangle 12.0x9.5x4.75
- Sale Price: $36.00
Imported ceramic bonsai pot.

Flowering Ligustrum Bonsai Tree (ligustrum lucidum)
- Sale Price: $275.00
Native to China and Eastern Asia and is now grown ornamentally in the United States. The berry of the Ligustrum has been used as a "yin" tonic in traditional Chinese medicine for a wide range of conditions, including premature aging, ringing in the ears and chronic toxicity. Trained in the traditional bonsai style with a curved trunk and tiered branches. White puffy blooms are attractive during late spring and early summer. Good for indoors.

Grow Light Kit - 130 Watt Full daylight spectrum 26 Watt Fluorescent grow-light 130 watt equivalent
- Sale Price: $29.95
Grow bonsai trees, orchids, houseplants, or terrarium anywhere in your home or office with the Dayspot grow light kit. Just clamp the fixture anywhere your plants need extra light. Includes a specially calibrated full spectrum daylight 1800 lumens with a 3000 hour lifespan. The kit comes complete with bulb, designer black fixture with on/off switch and clamp. Just fasten the easy clamp arm fixture anywhere extra light is required. The 130 watt equivalent grow bulb may also be purchased separately and fits in any standard light fixture.

Juniper Bonsai Tree - Trained (juniper procumbens nana)
- Sale Price: $89.95
This dwarf Juniper from Japan is the most popular evergreen in the U.S. When we think of a traditional bonsai and what it should look like we think of a "Juniper Procumbens Nana". They are very hardy, long-lived and tolerate many adverse conditions. Trained style.
User Comments:
There are currently 0 comments.