Flowering Fukien Tea Bonsai Tree Curved Trunk & Tiered Branching Style (ehretia microphylla)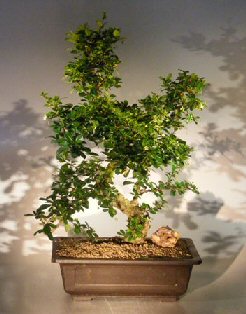 Sale Price: $275.00

From Bonsai Boy of NY
View User Comments
Flowering Fukien Tea Bonsai Tree Curved Trunk & Tiered Branching Style (ehretia microphylla)
Native to the Fujan province of China. This tree has small white flowers that can bloom at any time. The foliage is dark green and small in size. The flowers turn into red berries that turn darker with age. Trained in the traditional tiered layered style with a curved trunk. Has exposed roots which give the appearance of great age. Loves the heat and does very well indoors.
You may also be interested in these related Bonsai Trees and supplies:

Flowering Crown of Thorns Bonsai Tree - Red / Salmon (euphorbia milii)
- Sale Price: $29.95
The Crown of Thorns is a spiny, succulent bonsai that flowers nearly all year. The common name alludes to the legend that the euphorbi milii worn by Christ at the time of his crucifixion was made from stems of this plant. The red / Salmon flowers are small and the brightly colored modified leaves (bracts) found just beneath the flowers are quite attractive. Very easly indoor care. Requires water only weekly.

Oriental Ficus Bonsai Tree Coiled Trunk with Banyan Roots (benjamina 'orientalis')
- Sale Price: $125.00
Fig species which is native to south and southeast Asia. This evergreen tree is particularly good for bonsai training as they produce sturdy trunks, good branching characteristics and shiny leaves. Best to trim the leaves in early summer as the new leaves that subsequently grow will be smaller than the ones removed. Ours is trained in the coiled trunk style. Great for indoors.

Mini Shoji Screen With Glass Framed Pictures of Panda Bears on Both Sides
- Sale Price: $29.95
Mini shoji screen with glass framed pictures of panda bears on both sides.

Ceramic Bonsai Pot - Rectangle 6.125 x 5.0 x 2.125
- Sale Price: $7.25
Imported ceramic bonsai pot

Flowering Mount Fuji Bonsai Tree Water/Land Container - Medium (serissa foetida)
- Sale Price: $49.95
The water pot is divided into two sections. On one side we plant the flowering Mount Fuji Serissa which blooms easily and is great for indoors. On the other side of the planting is a well. We include a fisherman figurine, along with a fishing pole, line and ceramic fish.
User Comments:
There are currently 0 comments.