Flowering Fukien Tea Bonsai Tree Curved Trunk & Tiered Branching Style (ehretia microphylla)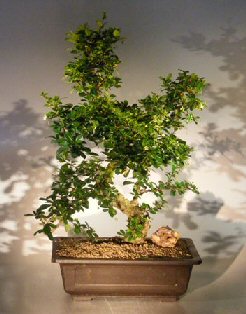 Sale Price: $275.00

From Bonsai Boy of NY
View User Comments
Flowering Fukien Tea Bonsai Tree Curved Trunk & Tiered Branching Style (ehretia microphylla)
Native to the Fujan province of China. This tree has small white flowers that can bloom at any time. The foliage is dark green and small in size. The flowers turn into red berries that turn darker with age. Trained in the traditional tiered layered style with a curved trunk. Has exposed roots which give the appearance of great age. Loves the heat and does very well indoors.
You may also be interested in these related Bonsai Trees and supplies:

Flowering Pink Almond (Prunus Glandulosa 'Rosea Plena')
- Sale Price: $89.95
The Flowering Pink Almond is prized for heavy flowering in early spring. Branches literally covered with densely packed double pale pink blooms. It has attractive glossy foliage during growing season. Deciduous. Keep outdoors.

Ceramic Bonsai Pot - Land/Water with Attached Matching Tray 10.0 x 7.5 x 3.5
- Sale Price: $18.00
Imported, glazed Chinese ceramic land/water pot. Oval, beige color with attached matching tray

Chinese Flowering White Serissa in Lava Rock Pot Tree of a Thousand Stars (Serissa Japonica)
- Sale Price: $39.95
Tree of a Thousand Stars. The Japonica has somewhat elongated spoon shaped, shiny green leaves. It is a twiggy tree that grows tighter with shearing. This northern Chinese Serissa has small white trumpet shaped blossoms with a full upright canopy. Pot is a Lava Rock Pot. Popular indoor flowering bonsai tree.
Norfolk Island Pine Bonsai Tree Forest - Five Cluster Planting (araucaria heterophila)
- Sale Price: $99.95
Open and airy conifer (cone bearing) with light green foliage turning darker with age. One of the best know trees from the South Pacific. Will tolerate warm temperatures and does not even object to dryness, although it does not like glaring sunshine. Decorates well for any holiday or season. Very easy indoor care.

Himalayan Cedar Bonsai Tree (cedrus deodara)
- Sale Price: $295.00
Conifer cone and bearing with reddish - brown barrel shaped cones. Has silvery green needles with cream hued tips evergreen with an amazingly soft texture. Mature foliage is gray-green. Hardy. Keep outdoors.
User Comments:
There are currently 0 comments.