Ficus Benjamina Bonsai Tree Large - Double Planting (exotica)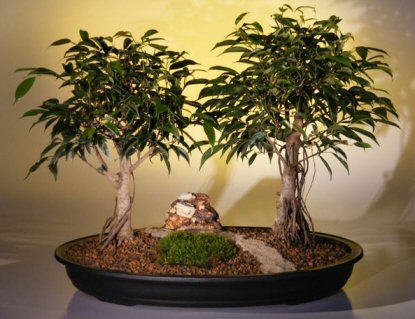 Sale Price: $160.00

From Bonsai Boy of NY
View User Comments
Ficus Benjamina Bonsai Tree Large - Double Planting (exotica)
Full evergreen canopy with extensive dark green foliage. Does great indoors.
You may also be interested in these related Bonsai Trees and supplies:

Catlin Elm (ulmus parvifolia)
- Sale Price: $150.00
The Catlin Elm is a sport of the common Chinese Elm. It is partly evergreen in mild climates and evergreen in the south. Its leaves are very tiny (0.25" - 0.75" long), are a shiny dark green, and smaller than Zelkova. The Catlin Elm can only be propagated by cutting or layering. It grows slower than the Chinese Elm, but it produces a much finer network of twigs and branches.

Humidi-Grow Bonsai Tray - Black Color
- Sale Price: $17.95
The Humidi-Grow Tray allows you to use pots with drain holes without worrying about excess water pouring out and causing structural or furniture damage. The overflow will pass through this pot and collect in the tray where the settled water will evaporate and help offset the loss of transpiration which is the loss of moisture through the leaves. Designed for minimal care. Just wash the tray and grid with mild soap and water occasionally, then refill with water.

Podocarpus Bonsai Tree - Dwarf Pringles Large (podocarpus macrophyllus)
- Sale Price: $49.95
AKA Buddhist Pine or Chinese Yew. Podocarpus is a dense evergreen with pointed, leathery, dark green leaves arranged on stiff, symmetrical branches. The tree which is unisexual, has male flowers in cones and female flowers composed of cylindrical thickened scales. The fruits often edible, are pedunculate, fleshy and brightly colored. New foliage comes in a light green color that turns darker with age. Our trees are trained in the traditional bonsai style. Grows very well albeit slowly indoors.

Ceramic Bonsai Pot - Rectangle 7.0 x 5.5 x 2.4
- Sale Price: $8.95
Imported ceramic bonsai pot

Bone Frog Figurine
- Sale Price: $9.95
Miniature Bone Frog Figurine
User Comments:
There are currently 0 comments.