Ficus Benjamina Bonsai Tree Large - Double Planting (exotica)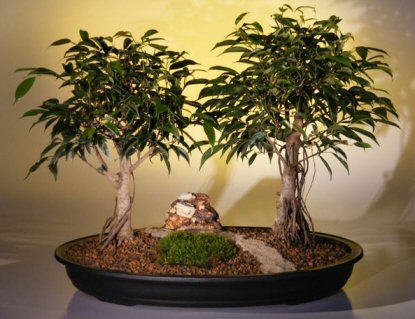 Sale Price: $160.00

From Bonsai Boy of NY
View User Comments
Ficus Benjamina Bonsai Tree Large - Double Planting (exotica)
Full evergreen canopy with extensive dark green foliage. Does great indoors.
You may also be interested in these related Bonsai Trees and supplies:

Ginseng Ficus Bonsai Tree - Medium (Ficus Retusa)
- Sale Price: $49.95
Also known as Banyan Fig and Taiwan Ficus. The Retusa has small dark green leaves which alternate up the stem and which are more oval than the Benjamina. Grey to reddish bark dotted with small horizontal flecks, similar to tiger-like markings. All have heavy trunks with exposed aerial roots. Among the most tolerant, versatile and trouble-free bonsai trees for indoor use.

Desktop Grow Light
- Sale Price: $54.95
This incredible computer-operated, 9-watt, 1200 lumens, full spectrum fluorescent lamp is the answer to all of your indoor gardening needs. An automatic computerized timer turns the lamp on and off, simulating the day length in cycle with the four seasons. The soil moisture sensor eliminates the guesswork about watering. To vary the light intensity or accommodate larger plants, the telescoping stem adjusts from 7" to 14" high. The base of the lamp that holds the pot measures 6" x 7". The textured pebbled base serves as both a catch basin and humidity/drip tray. A wonderful gift to keep bonsai thriving whether at home, office or classroom. Instructions included. Grow lamp bulb also included.

Artificial Crabapple Bonsai Tree
- Sale Price: $59.95
The fruit and branches of this artificial tree are created from luna clay, making them very flexible and, therefore, can be adjusted to your personal preferences or left as shown in the image. The hand-painted fruit is so life-like that you can almost taste the small apples. The trunk is curved and has a nice taper. This tree will retain its beauty for many years to come and can be cleaned with a slightly dampened cloth.

Tool Case/Tool Roll - 10 Pocket Tools Not Included
- Sale Price: $29.95
Pouches for all your bonsai tools. Made of super tough white canvas. Scuff resistant, repels water, designed for heavy indoor/outdoor use. Attached canvas straps to hold tools securely. (Tools not included)

Hemp Brush
- Sale Price: $14.95
Hemp Brush. Used to smooth the top of the soil and is helpful with cleaning up a Penjing. Firm but not too stiff.
User Comments:
There are currently 0 comments.