Ceramic Bonsai Pot - Oval Unglazed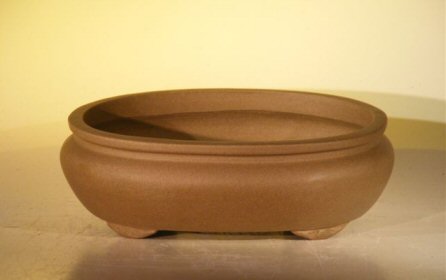 Sale Price: $14.50

From Bonsai Boy of NY
View User Comments
Ceramic Bonsai Pot - Oval Unglazed
Oval, unglazed, ceramic bonsai pot. Measures 8"x6.125"x2.5"
You may also be interested in these related Bonsai Trees and supplies:

Key Lime Bonsai Tree (citrus aurantifolia)
- Sale Price: $89.95
Also known as Mexican Lime or Bartender's Lime, has a globose fruit 1-2" that is yellow when ripe but usually picked green. It is smaller, seedier, has a higher acidity, a stronger aroma, and a thinner rind than that of the more common Persian Lime. It is valued for its unique flavor compared to other limes, with the Key Lime usually having a more tart flavor. The Key Lime is a small tree with an open habit and heavy crop of fruit that has fragrant flowers and fruits readily on its own. Great for indoors. Popularly used for Key Lime pie.

Hemp Brush
- Sale Price: $14.95
Hemp Brush. Used to smooth the top of the soil and is helpful with cleaning up a Penjing. Firm but not too stiff.

Miniature Chinese Boat Figurine - Size Large
- Sale Price: $3.95
Charming, imported miniature Chinese Boat Figurine measuring 2.75" x 0.5" x 2.5" tall.

Wooden Display Table - 8 x 5 x 4 tall
- Sale Price: $79.95
Wooden display table. Made in China. Semi-gloss finish.

Shimpaku Juniper Bonsai Tree - Trained (juniper chinensis)
- Sale Price: $125.00
The Japanese Shimpaku Juniper is a needled evergreen tolerant of a wide variety of soils and is dioecious which means that there are separate male and female plants. Shimpaku is a naturally irregular vase shaped Juniper which we have trained in the traditional bonsai style that has a curved trunk and deadwood in the form of Shari. The Shimpaku has attractive year round foliage and its dark green needles are soft to the touch. Very popular and easy to care for bonsai.
User Comments:
There are currently 0 comments.