Bonsai Wire Cutters Made in China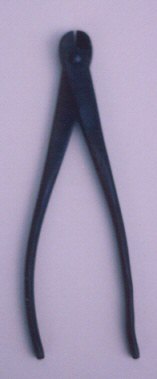 Sale Price: $24.95

From Bonsai Boy of NY
View User Comments
Bonsai Wire Cutters Made in China
These wire cutters are designed specifically for removing bonsai wire. Although enthusiasts new to bonsai sometimes substitute standard wire cutters, these are designed with a rounded head to prevent damage to the trunk and branches when removing wires. The jaws of the cutters cut the wire symmetrically and cleanly. Highly recommended for bonsai enthusiast. 8" overall length. $19.95 each.
Shipping is $8.95.
Click here for ....
Entire Tool Set
. Sale! $96.03 - Shipping for entire set is $10.95.
You may also be interested in these related Bonsai Trees and supplies:

Podocarpus Bonsai Tree - Dwarf Pringles Large (podocarpus macrophyllus)
- Sale Price: $49.95
AKA Buddhist Pine or Chinese Yew. Podocarpus is a dense evergreen with pointed, leathery, dark green leaves arranged on stiff, symmetrical branches. The tree which is unisexual, has male flowers in cones and female flowers composed of cylindrical thickened scales. The fruits often edible, are pedunculate, fleshy and brightly colored. New foliage comes in a light green color that turns darker with age. Our trees are trained in the traditional bonsai style. Grows very well albeit slowly indoors.

Starter Kit - Juniper Procumbens Make Your Own Bonsai Tree
- Sale Price: $24.95
Make your own Bonsai Tree. Everything you need to create your own bonsai tree. Kit includes the following:

Bonsai Pot - Professional Series Rectangle - Marble Blue Color 8.0 x 6.0 x 3.0 Tall
- Sale Price: $13.50
Imported ceramic bonsai pot.

Rooting Hormone Concentrate - 2 oz (60ml)
- Sale Price: $16.95
Dip N Grow liquid rooting concentrate is the most effective rooting hormone available. We find the liquid form more economical and easier to use than rooting powders because it is absorbed more rapidly and evenly into the cuttings. The kit includes: Dilution cup with graduations, 2 oz liquid concentrate and complete easy to use instructions.

Ceramic Figurine - Man Holding Cup 1.5x1.5x2.0
- Sale Price: $4.95
Man Holding Cup - Chinese mud figurine.
User Comments:
There are currently 0 comments.