Bonsai Wire Cutters Made in China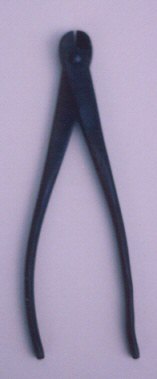 Sale Price: $24.95

From Bonsai Boy of NY
View User Comments
Bonsai Wire Cutters Made in China
These wire cutters are designed specifically for removing bonsai wire. Although enthusiasts new to bonsai sometimes substitute standard wire cutters, these are designed with a rounded head to prevent damage to the trunk and branches when removing wires. The jaws of the cutters cut the wire symmetrically and cleanly. Highly recommended for bonsai enthusiast. 8" overall length. $19.95 each.
Shipping is $8.95.
Click here for ....
Entire Tool Set
. Sale! $96.03 - Shipping for entire set is $10.95.
You may also be interested in these related Bonsai Trees and supplies:

Ceramic Bonsai Pot - Rectangle 12.0 x 9.5 x 3.375
- Sale Price: $28.95
Imported ceramic bonsai pot

Navel Orange - Seedless (Citrus' Sinensis)
- Sale Price: $89.95
The fruit of the Citrus Sinensis is called sweet orange to distinguish it from that of the Citrus Aurantium the bitter orange. The Navel Orange is a hybrid which has been cultivated since ancient times & originated in Southeast Asia. The fruit is sweet which can be eaten fresh or processed to obtain juices. The Navel Orange peels easily & has a fragrant peel, fruit, and blooms. Very easy indoor care.

Gift Certificate - Personalized Tree Pictorial
- Sale Price: $.00
A Personalized Tree Pictorial Gift Certificate You Customize

Oriental Ficus Bonsai - 3 Tree Group (ficus benjamina 'orientalis')
- Sale Price: $175.00
Fig species which is native to South and Southeastern Asia. These evergreen trees are particularly good for bonsai training, as they produce sturdy trunks, good branching characteristics and shiny leaves. Great for indoors year round. The brighter the location, the more compact the growth. Three tree forest group, easy maintenance.

Ficus Benjamina Bonsai Tree - Curved Trunk (exotica)
- Sale Price: $59.95
Very full tight canopy with pleasing shaped trunk. Trim foliage to maintain compact shape. Does very well indoors.
User Comments:
There are currently 0 comments.