Bonsai Wire Cutters Made in China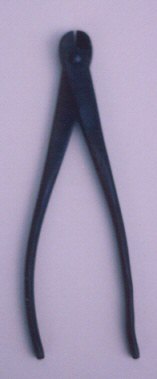 Sale Price: $24.95

From Bonsai Boy of NY
View User Comments
Bonsai Wire Cutters Made in China
These wire cutters are designed specifically for removing bonsai wire. Although enthusiasts new to bonsai sometimes substitute standard wire cutters, these are designed with a rounded head to prevent damage to the trunk and branches when removing wires. The jaws of the cutters cut the wire symmetrically and cleanly. Highly recommended for bonsai enthusiast. 8" overall length. $19.95 each.
Shipping is $8.95.
Click here for ....
Entire Tool Set
. Sale! $96.03 - Shipping for entire set is $10.95.
You may also be interested in these related Bonsai Trees and supplies:

Ceramic Bonsai Pot Glazed Rectangle - Green Color 8.25 x 6.5 x 2.75 Tall
- Sale Price: $13.50
Glazed rectangle - Light green color.

Flowering Mount Fuji Serissa - Three Tree Forest Group (serissa foetida)
- Sale Price: $45.95
Beautiful white, star-shaped, miniature flowers. This sub-tropical variegated evergreen, which is imported from Japan blooms profusely with delicate white miniature flowers. Three tree forest group. Easy indoor maintenance. Excellent for beginners.

Flowering Princess Earrings Bonsai Tree - Medium
- Sale Price: $49.95
A small semi-deciduous tropical tree native to South Africa. It is also known as Bell Mimosa, Chinese Lantern or Rabbit's Foot Acacia. The word 'dichrostachys' means '2 colored spike' and 'cinerea' refers to its greyish hairs. The delicate pink and yellow inflorescens resembles precious earrings hanging from a tree. The flower starts off pink and the next day it fades to white. Can produce blooms almost year round in full sun. The fruit and seeds that are produced are edible and the flowers can be a valuable source of honey. Wonderful flowering bonsai for indoors.

Lime Sulphur - 4 oz.
- Sale Price: $9.95
Lime Sulphur is a premium sterilizer, jin and shari preservation solution imported from Japan. Used for jin and shari to prevent rotting and to brighten and lighten dead wood color. Apply in mid day with a brush. Do not dilute. Protect the pot and all surfaces from drips and run-off. Apply twice a year one month apart. Repeat for two years and as needed for the woods preservation. As with all chemicals, extreme caution should be used.

Ceramic Bonsai Pot - Oval 20.25x16.5x5.0
- Sale Price: $142.75
Imported glazed Chinese pot, blue color, oval
User Comments:
There are currently 0 comments.